oil mill berretta
Land and History

The story of the truth extra virgin olive oil
The taste and scent of authentic Sicilian extra virgin olive oil in its noble facets. From the medium intensity fragrance and the harmonious taste of the Feudo up to the intense perfume and the light and pleasant spicy sensation of the 400; from the lively scent of green Soprano tomatoes to the softness on the palate of Sottano, passing through the seductive aroma of fresh wild herbs from Maccarisi and the flavor full of personality of organic Terra.
Extra virgin olive oil. From the heart of Sicily to Italy's tables
Oil mill Berretta
Our Oils
Discover the full range of Berretta products

400 Monocultivar
Monovarietal, 100% Nocellara of the Belice. It is the celebration of four centuries from the foundation of Mirabella Imbaccari's territories. Harvested in the first ten days of October, the oil is limpid with green reflections. On the nose it has an intense aroma of artichokes, green tomatoes, broad beans and basil. The taste is delicate with slight and balanced sensations of pleasant spicy with a slightly bitter finish. Ideal for first courses, main courses of meat, mixed salads.

Soprano Monocultivar
Monovarietal 100% Nocellara of etna.  Harvested in the first ten days of October, the oil is yellow with green reflections. On the nose it has an intense aroma of freshly cut herbs and green tomatoes. The taste is delicate with light and balanced spicy sensations that retain a typical fruitiness of the product
itself. Ideal on red meats and game.

Sottano Blend
Imbaccari Sottano is a fine blend, composed of 55% Iblea round, 30% Nocellara and 15% Cerasuola.
Harvested in October, the oil is jade green with a bouquet of artichoke and bitter almond. The taste is
soft and full-flavored, maintaining all the characteristics of freshly picked olives. Ideal on cooked
vegetables and meat-based first courses.

Terra Biologico
Imbaccari Terra is produced from an entirely organic crop. 50% Biancolilla and 50% Nocellara of the Belice. Harvested in the first ten days of October, the oil has a clear golden yellow color. The smell is characterized by a broad scent of almonds and spicy notes of black pepper. The taste is complex in personality with tones of aromatic herbs with basil, mint and thyme in evidence. Ideal on fish starters
and soups.

Feudo Blend
Oil produced from olives autochthonous is limpid with shades of light green. Scents of medium intensity with hints of artichoke plants in particular. In the mouth reveals good density and a balanced combination of bitter and spicy. Overall harmonious, leaves pleasurable sensations and prolonged. Combined with legumes and pasta dishes.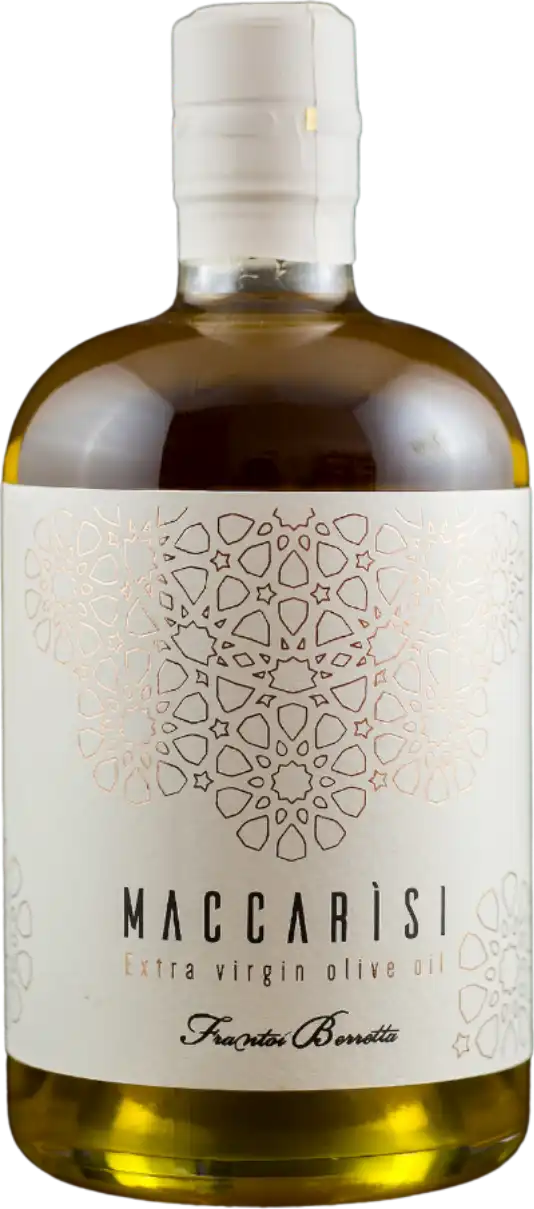 Maccarisi Blend
Robust oil with persistent bittemess and balanced spiciness, rich in polyphenols and with particular argonoleptic characteristics that make it an oil with a unique and typically Sicilian taste. The harvest is carried out in early October by olives with early ripening and this gives the oil structure and complexity that will persist throughout the year, on the palate seduces with intense aromas of green tomatoes and rosemary, is green in color.
Oil mill Berretta
Flavored OILS
Discover the flavored versions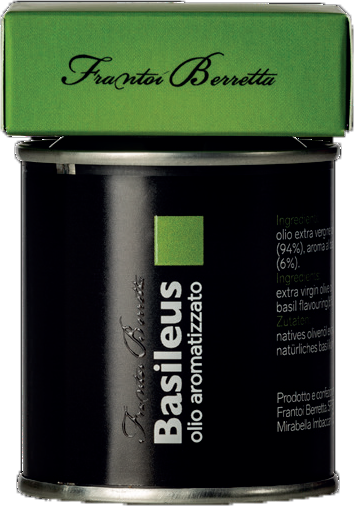 Basil Oil
Basil flavored extra virgin olive oil dressing gives freshness and liveliness to dishes. Ideal for flavoring summer dishes such as bruschetta, caprese, cold dishes, or pasta and pizzas, or directly as a condiment in the preparation of vegetable sauces.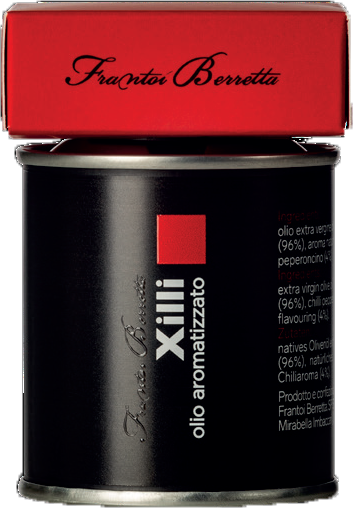 Chili Pepper Oil
Chili pepper flavored extra virgin olive oil dressing is characterized by a typically Mediterranean flavor and scent, a valid ally for flavoring sauces and condiments, to which it adds spiciness and color. Ideal for those who love strong flavors. Suitable for first courses such as spaghetti with garlic, oil and chili pepper, pasta all'arrabbiata (pasta with spicy tomato sauce), bean soups or on pizza. It also enhances meats and cheeses.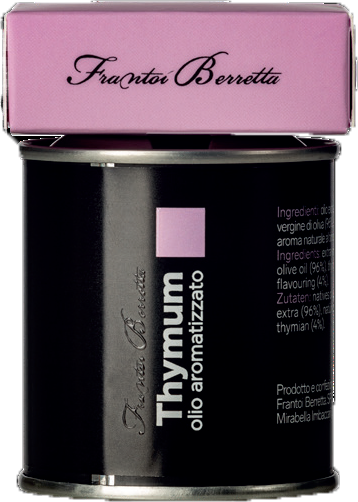 Thyme Oil
Seasoning with extra virgin olive oil flavored with thyme gives an inebriating sensation of freshness to dishes. Very useful for the preparations of your kitchen based on fish but also as a base for bisque, risotto, fish-fumet.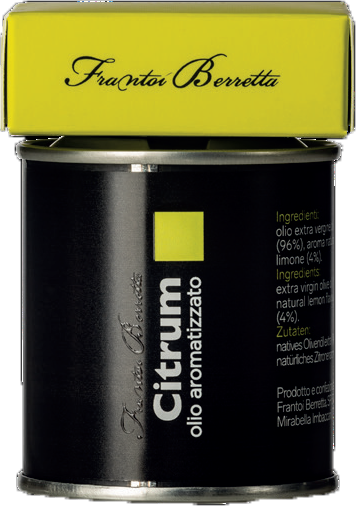 Lemon Oil
With the fragrant scent of freshly picked lemons. Very versatile, it is used both raw for raw vegetables and salads and cooked for marinades and to enhance fish-based dishes or on the classic grilled steak.
xxxi Golden lion 2022
We are pleased to announce that the MACCARìSI sample has officially entered the Leone selection, the selection of the best extra virgin olive oils in the world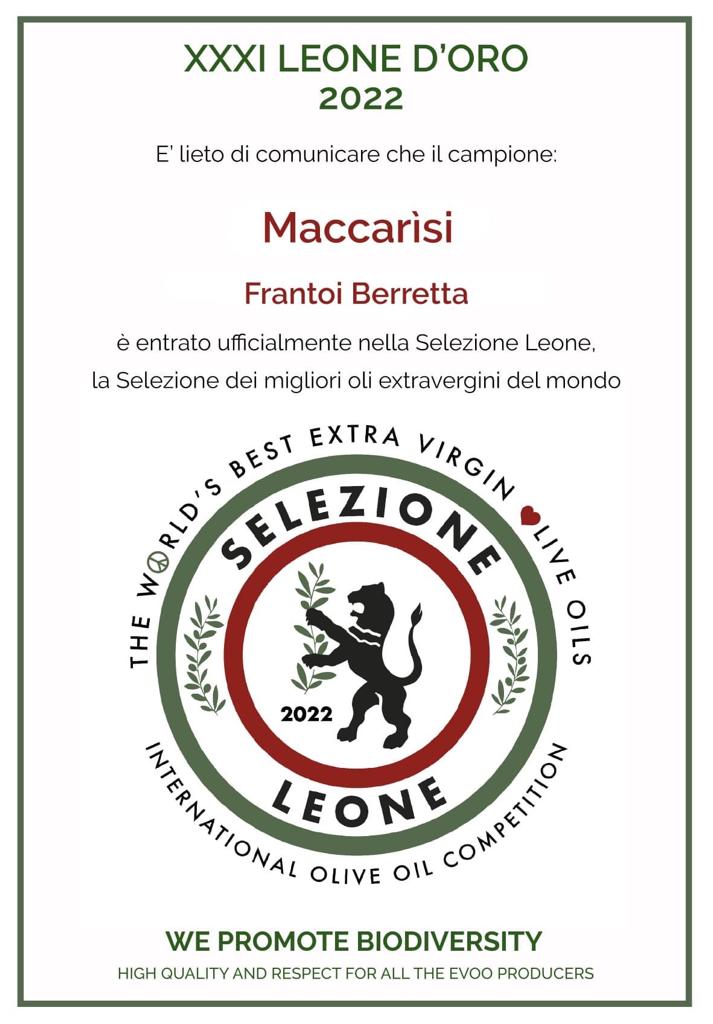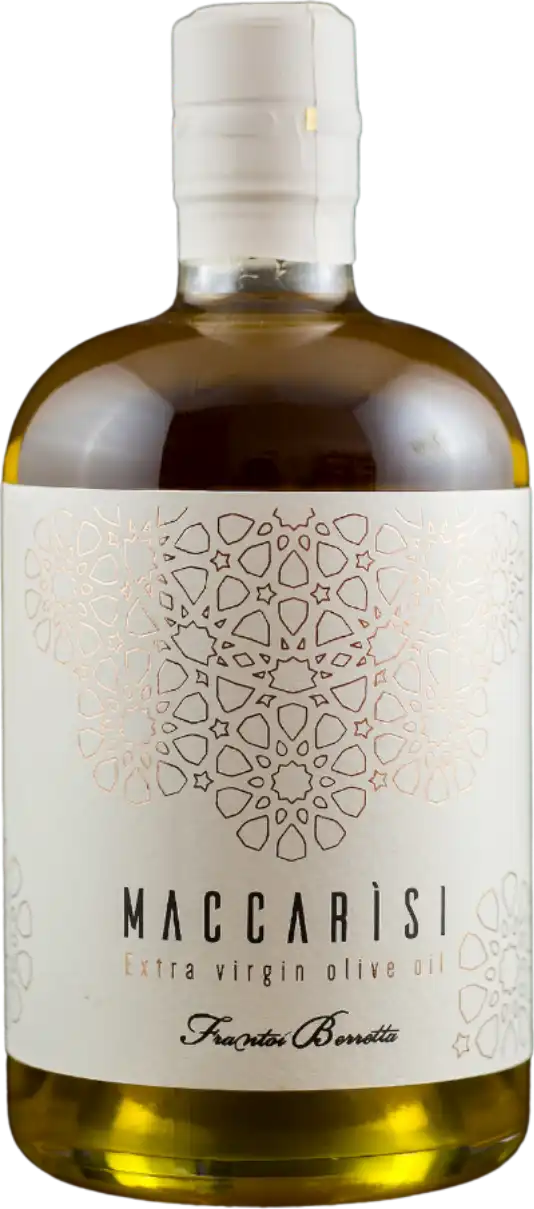 Discover all the models of packs and gift boxes, a fine selection of oil present in the Berretta references. Consult our guides and the technical data sheet .
Contrada Ferriante s.n. Mirabella Imbaccari, CT  95040